HOW TO BECOME FELLOW MEMBER OF dPROGRAMMINGUNIVERSITY:
–
WHO IS A FELLOW MEMBER OF dProgrammingUniversity?
Let see the definition of the word "Fellow" in Education/Academic setup first:
Within the context of higher educational institutions, a fellow can be a member of a highly-ranked group of teachers at a particular college or university or a member of the governing body in some universities (such as the Fellows of Harvard College);
it can also be a specially selected postgraduate student who has …
–
Thus, dProgramming University Fellow Members Are Web3 Programmers That Have Proven They Are Not Just Newbies But Gone Through Series Of Web3 Programming Courses on dProgrammingUniversity Platform To Enhance Their Knowledge.
Now They Go A Step Further To SACRIFICE Lots of Rewards (dPUT) They Earn During The Learning Process To The Growth Of dProgrammingUniversity
–
HOW?
They Burn 10,000,000 dPUT Earned As Sacrifice To Growth Of The Platform
–
WHAT DO THEY GET?
In Return, They Get Conferred the rare Title "Fellows Of dProgrammingUniversity" Memership Which Is Represented As "NFT" On The "Blockchain" and to keep the rare access.
NOTE: The NFT will not be transferable from the Fellow Member Wallet That Earned It. It does not mean you can't send from one wallet to another.
This only means once you transfer to another wallet, you lose the special key feature embedded in the NFT and you won't be able to use it to unlock Fellows membership only benefits below anymore.
Each NFT has a Membership KEY valid for 36500Days (100Years) and when transfered to another wallet the Key valid crash down to 0Day(0Year) and becomes invalid even though the NFT is still in your wallet.
Even if you send it back to the original wallet, it can't recover the lost invalid key again (gone for life)
–
BENEFITS OF FELLOW MEMBERSHIP:
(1) Access To Become An Instructor On The Platform easily (Join to impact at least 1Million Web2/Web3 Programmers' Life While Earning dPUT Rewards)
(2) Submit Proposals: Propose Features and Web3 Programming Courses You Want to be Added And Prioritized On The Platform
(3) Vote For Proposals
(4) Get Hired Into Other Positions In dProgrammingUniversity like web3 programming forum managers and a lot more
(5) 3x Your Reward On The Platform. For Example, normal members earn 20,000dPUT/Exercise.
As Fellow Member, you earn the same but when withdrawing, your reward will be processed as 3x which means you get a 60,000dPUT reward instead of the 20,000dPUT reward earned
(6) Exclusive Fellow Members Only Group On Telegram/Discord (Can not be accessed without the Fellow Membership ID NFT in your wallet) to access support from the community of web3 programmers
(7) Upgraded Membership Profile on dProgrammingUniversity.com
(8) One-on-One 1Hour Access To Instructor Per Course (could be via Phone Call/Whatsapp/Telegram/Zoom etc) to help if stuck with any course on the platform
(9) Access To Exclusive Hackathons, Testers and More To Earn Free Crypto From Our Partners and Other Third Party Platforms
(10) 10x Lower Withdrawer threshold For Earned Reward While Learning On The Platform
For example, if normal members need to earn at least a cumulative of 1Million dPUT to withdraw. Fellow Members can request a withdrawal for just 100,000dPUT
(11) Easy Weekly Withdrawal of Earned Reward On the Platform For Course Exercises and Forum Participation
In comparison, normal members can only withdraw once a Month at a specific time
(12) Get Featured on the platform's Job Board to showcase all the Web3 Programming Skills you have acquired via Courses on the platform for potential recruiters and hiring managers to access on the platform
(13) Prioritized Access To Students Project Funding For The Community – you have learnt, got real-life useful project idea?
Then submit MVP (minimum viable product) and get dPUT funding to kick start it.
(14) Lifetime Prioritize Access To A Lot More Features Coming In The Future Even Before Been Unveiled To Normal Members
READY TO BE CONFERRED WITH THE
HONOURABLE FELLOW MEMBER OF dProgrammingUniversity?
THEN BURN 10MILLION dPUT
BY GETTING YOUR
MEMBERSHIP NFT BELOW
TO START UNLOCKING FELLOWS ONLY BENEFITS:
NOTE: All dPUT spent to purchase will be burnt by the team once a month which helps to keep the dPUT supply shrinking too – To Burn such means you believe in this project – Kudos!
To Mint Your Fellow Membership NFT,
Click The Locked Content Below and ensure your wallet is set to Polygon Mainnet Blockchain Network.
After Successfully Minting To Your Wallet,
A Hidden Content Will Be Unveiled To You That Only The Fellow of dProgrammingUniversity Membership NFT can unlock for you (even logged in members on this platform can't see it without having the membership NFT in their wallet).
Follow The Hidden Instruction To Begin To Access Fellows Membership Only Benefits on This Platform.
–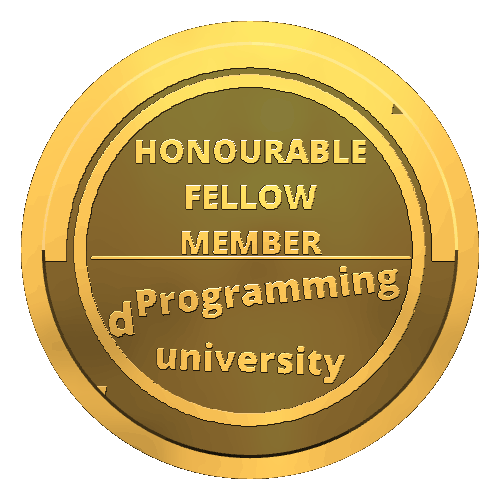 CONGRATS YOU UNLOCKED THE RARE HONOURABLE MEMBERSHIP OF dProgrammingUniversity.
Copy & Paste To Send This code To hello@dProgrammingUniversity.com :
"Fellow NewindPU" + Your Wallet Used On This Platform To Mint The NFT.
Our Team Will Cross Check And Verify You And You Will Be Added To Exclusive Telegram Group
And
We Can Discuss & Setup Other Fellow Members Only Benefits For You From There.
Welcome On Board!!!
NOTE:

We will officially start the private group once we have atleast 10 Members holding this NFT.
So, we will keep you updated via mail